The ban on visitors to care homes in England has now been lifted and many care homes are now looking at ways they can reunite residents with their family and friends but still keep COVID-19 at bay.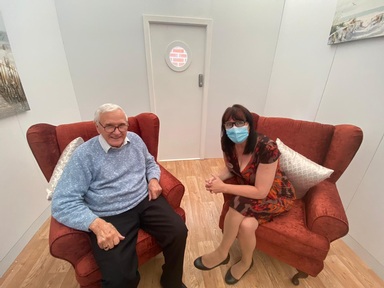 Government guidance states that where possible visits should take place outside in a communal garden or outdoor area, which can be accessed without anyone going through a shared building. Each resident is allowed 'one constant visitor' as long as they book in advance and wear a mask and extra PPE if required.
All visits must be booked in advance and the decision on whether or not to allow visitors, and in what circumstances, is ultimately up to the care provider and managers of each individual care home.
Kim Northwood, manager of the Gables care home in Kidderminster, has been very keen to open up her care home to visitors knowing that many residents have really struggled with the lack of contact from family and friends over recent months.
However, she has been faced with a conundrum as the Gables is a small 24-bed care home and does not have any spare lounges that could be set aside for visitors and the garden is used by residents with dementia daily and therefore would not be ideal for family visits.
Ms Northwood said "When you have dementia residents wandering without purpose it is difficult to segregate any area of the home off for safe visits. We did think of using the residents' individual rooms at first, but that would create issues in itself as residents could leave the families in the room and wander off.
"Also everything within that room would then need a thorough deep clean after each visit to limit cross infection which would be a massive undertaking throughout the day for the care staff to complete."
So to facilitate visits to the care home, the home has invested in a portable visitors pod from Taylex which has been set up in the garden. These come with wipeable walls in two different sizes.
The visitor pod means we can thoroughly clean between visits
"Having the visitors centre has meant that we can thoroughly clean between visits much easier and much more cost-effective. It means that all our residents are safe and families can come and see their residents knowing that it is a safe environment.
"Since having the visitors pod we can already see the impact this is having on our residents and the families who have been desperate to come and see their family member. We have throughout the pandemic kept in touch via Zoom, Microsoft Team, WhatsApp and a Facebook Portal but they are no substitute for face to face meeting with their family member albeit through a screen.
"We have made it comfortable and homely and it now looks like two lounges, in the family side we have a drinks station for them."
The care home has set up a booking system for visitors and a staff member will sit with the resident until the visitor arrives. The care home has three visitor slots a day of an hour-long with an hour set aside in between visits for cleaning.
The care home is allowing one family member at each visit for the first four weeks and then it is going to reassess the situation and maybe increase to two family members.
"Residents' families have been so supportive throughout the pandemic and we have remained COVID free and want to remain that way," added Ms Northwood.
Karl Clark, chief executive of Taylex Displays Ltd, said: "Our team has been working flat out to find unique ways to bring care home residents safely back in contact with their families and friends. Not only have we created a pod that effectively creates a wonderful space for visits, but we have also created a bespoke gazebo option for care homes with tighter budgets and less space in these hard times.
"We truly hope that our new secure visiting pods will make it easier for residents and their families during these challenging times. We're also continuing to look at other ways Taylex can support the care home community, so watch this space."
The visitor centre has made a huge difference to Sandra Newell, whose mum lives at The Gables care home. She said: "The Gables have done an amazing job keeping the home COVID-free and keeping me updated about my mum, but it's not like seeing her for myself. Having this opportunity now means the world for me to see her face to face after four months of not seeing her. I'm happy that visitors will not be going into the home. It's a wonderful facility I can't thank them enough."
Care homes seeking more information on visitor centres can go to taylex.co.uk/care-home-support/