Since the government issued new visitor guidance for care homes in England saying all residents should be allowed Covid-secure visits using visitor pods, window visits or outdoor visits, suppliers of visitor pods have been inundated.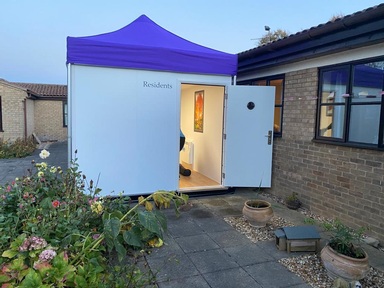 The government is encouraging care homes to install external visitor pods where the visitor and resident enter through different entrances and visitors do not need to enter the care home.
Prior to this guidance, many care homes were reluctant to allow visitors, having seen the catastrophic impact of COVID-19.
However, this guidance given at the beginning of November has led them to open their doors again.
Trevor Pearson, managing director of Taylex Healthcare has seen demand rocket. He said: "It is truly satisfying for us to construct our unique temporary visitor pods at so many care homes up and down the country. We can see that our pods are genuinely appreciated and satisfy a vital need for both resident and visitors. Taylex has been working day and night to manufacture its pods to satisfy current demand, and orders are now being taken for January installations."
He added: "It is difficult for care home providers to comply with government guidelines, ensure resident safety and provide comfortable environments for family and friends to visit their loved ones.
"We are delighted to assist the care home community by providing warm, comfortable pods so that bad weather is one less thing to worry about."
Belmont Grange Care Home in Durham recently invested in one of Taylex's visitor pods, with a spokesperson saying: "We have invested in this so we can continue to protect our ladies and gentlemen from coronavirus whilst allowing better visiting opportunities.
"We are still having to abide by Public Health England guidelines to do this but our residents cannot wait to start to use it."
Visitor pods have made a huge difference to families across the UK with one family member saying: "It's been a long and difficult journey since we were aware of the pandemic sweeping across the world meaning it wasn't safe to now visit mum. Although her dementia means she struggles with short term memory her thoughts of the past can often be jogged for a trip down memory lane and a few laughs.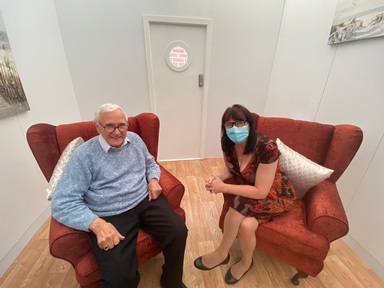 "Having the pod has brought us together again to reminisce and share some stories that can bring a twinkle of recognition back to her face, I'm certain mum in her own way has missed the contact of a family member and it's been equally as difficult for us. The feeling in the pod is like an afternoon catch-up with a cup of tea back in the family home, mum will natter non-stop unaware of the partition that separates us. For me, there is great comfort in seeing her looking well and content."
Care homes are expected to support the NHS Test and Trace system by keeping a temporary record, including the address and phone number, of current and previous residents, staff and visitors as well as keeping track of visitor numbers and staff.
The government recommends that care homes have the arrangement to enable bookings or appointments for visitors and do not allow ad hoc visits.
The Welsh government recently announced a £3m fund to pay for visitor pods to be installed at care homes across Wales to enable residents to have Covid-safe visits over Christmas and the winter months.
Care homes seeking more information on visitor pods can see our range here